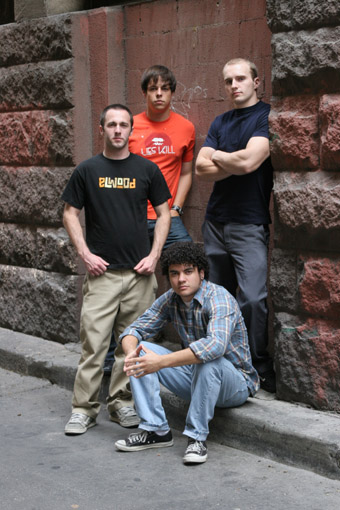 WEB LINKS:
Grounded on i-Tunes:
| | |
| --- | --- |
| | |
GENRE:
Rock / Alternative Rock / Punk Rock
BIOGRAPHY:
Take a deep breath, feel the burn? For four high school friends, this beautiful concentration of smog and poverty is home. The tarnished horizon of Riverside, California has served as a humble backdrop for GROUNDED ever since their formation in late 1998.

Some people believe that everything you do in life affects the world around you. Others argue that nothing really matters and soon we will all be dead and forgotten. Perhaps both sides are somewhat right. It is treading stubbornly through a slough of such contingencies that GROUNDED has found their place. Their music is crafted with care and frustration to bring solace to the downtrodden and discomfort to the comfortable.

"Apathy is just so fashionable these days," says singer Ian Barraza. "But I guess we've never been very big on style." Drawing from the eclectic artistry of those such as Bob Dylan, Nirvana, Rancid, Sublime, and Green Day, GROUNDED embraces positive awareness laced with an edgy sound.

After joining forces with indie-label Surprise Truck Entertainment in 2003, GROUNDED recorded their first full-length, All-Too-Human. The debut album was honored with BEST PUNK at the Orange County Music Awards in 2004. Soon after, the band was featured on Fox Sports Net for their involvement with the NOKIA CORE TOUR in 2003 and 2004, which took them all the way to Jones Beach, New York.

GROUNDED felt discouraged by the trash-metal/hardcore scene that began to saturate their hometown. Instead of changing with the wind, the band remained loyal to their musical foundations, combining smart and honest lyrics with melodic harmonies, driving guitars, and solid rock beats.

In January of 2005, GROUNDED recorded a second album called Revolution Jukebox. With rejuvenated determination, the band decided to hit the road, HARD! Between June of 2005 and June of 2006 GROUNDED was on the road for over 8 months, hitting 9 states and provinces. They relentlessly toured the west coast circuit and were invited to perform at the Quarterly BMI showcase in New York City. GROUNDED's DIY efforts have earned them a strong grass roots following in many major cities in the western United States. In addition to their hard work on the road, GROUNDED charted on the C.M.J. top two-hundred for several weeks in early 2006.

When the band returns from their latest 8-week tour they will be playing on the Hot Topic/Kevin Says stage at the Vans Warped Tour in Pomona, CA as well as other local venues. GROUNDED will also be writing heavily until they hit the road again in the Fall.
MEMBERS:
Ian Barraza (Lead Singer & Guitar)
Nick Kramer (Backup Singer & Guitar)
Mike Folkerts (Drums)
Philip Norton (Bass Guitar)
TOURING:
Click here for an up to date list of shows (MySpace.com)

Spring Tour 2006: CA, AZ, NM, NV, OR, WA, Vancuver, BC


Fall Tour 2006: CA, AZ, NM, TX, NV, OR, WA, Vancuver, BC
RADIO:
(no info at this time)